An introduction to the enigmatic, iconoclastic 15th century Bhakti-Sufi poet, Kabir, through storytelling, commentary, poetry and songs. The songs are in dialects of Hindi and the entire narration will be in English.
Vipul Rikhi is a singer, poet, storyteller and translator, immersed in the oral traditions of Kabir and other Bhakti and Sufi poets for over a decade
---
A celebration of Words, Poetry and Music.
---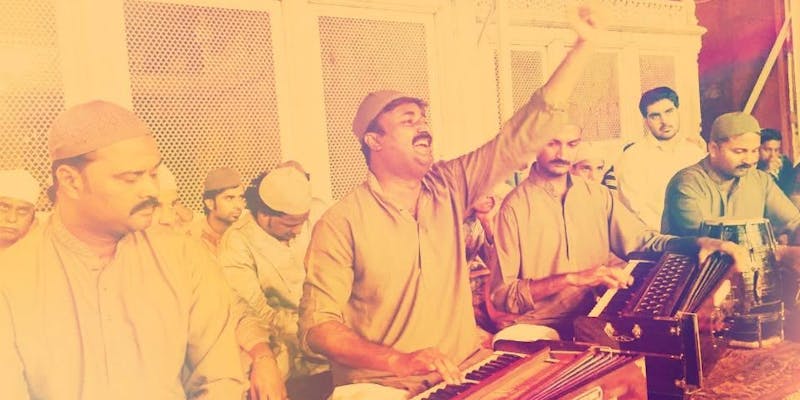 Saami Brothers are a group of accomplished vocalist and worthy custodians of the Traditional Qawwali as exemplified in Khyal of Hazrat Ameer Khusrau and Ustad Tanras Khan Sahab – of the Delhi / Qawwal Bahche Gharana.
The group are the sons of the much acclaimed Maestro Ustad Naseeruddin Saami. They are well-versed in several classical genres, currently performing as a traditional (Riwayati) Qawali group.
---
Hamza Akram Qawwal & Brothers, grandsons of the revered Munshi Raziuddin, have been acclaimed for their riveting interpretations of qawwali, the ecstatic improvisational Sufi vocal tradition.
This award-winning ensemble represents the 26th generation of the seven centuries-old Qawwal Bachon ka Gharana of Delhi founded by Saamat bin Ibrahim, the first qawwal of the subcontinent and principal student of mystic Amir Khusrau.
---
The Anuraag Collective is the coming together of a fluid, eclectic set of musicians,veterans in their own genres of music. Anuraag (composer and lead vocals) breathes life in the priceless ancient Indian philosophies as they manifest themselves in this modern-day context. Strong influences of Sufism and Hindustani Classical Music melt together, effortlessly with luscious Jazz and Neo Soul influences.
---
Akademi, in collaboration with SAMA Arts, presents a first-ever performance in Britain, showcasing unique selections from the court and salon Sadir dance repertoire from British India, performed by the captivating dancer, actor, and noted scholar Dr Swarnamalya Ganesh.
Sadir or the invitational performances of the 17th to early 20th century Southern India, were given by highly trained, hereditary, professional dancers, and their musician troupes in the royal durbars and sumptuous salons of rajahs, nawabs and other wealthy sponsors, often including among their guests, the officers of The Raj or British India.
---
Rhythms in Landscape is timely celebration of South Asian Dance Festival covering both Classical and Contemporary styles.
It will celebrate historic achievements and contemporary diversity of South Asian Dance in the UK and pose crucial questions to stimulate, steer and secure the future of British Asian dance as part of the UK's ever growing dance landscape. The five day festival will cover a range of events – including performances, master classes, workshops from training to artist development and other contemporary factors that are shaping South Asian dance creation & distribution
---
Progressive Carnatic fusion band from Bangalore. 'MishraM' is an amalgamation of the western genres of music like Rock, Metal, Jazz, Reggae and Electronic music centered around the Indian classical music.
Shared Values is a festival of South Asian art music, contemporary, classical & traditional that seeks to showcase the achievements of non-South Asian musicians who have wholeheartedly adopted the aesthetic values of this music and emerged as accomplished performers. We believe that the breadth and depth of these artists' with their adoptive musical culture can only be put in perspective when they are given an opportunity to share a platform with leading indigenous performers. This is a festival to project that South Asian music is universal, welcoming and inclusive. (click on the artist list to book online, click on venue for directions).
---
Sitar virtuoso, Nishat Khan has an impeccable international reputation and the north indian is regarded as one of the towering performers of the pre-eminent instrument of Indian classical music.
He returns to London to perform at the prestigious Union Chapel, accompanied by tabla player Pandit Sanju Sahai and with it's "infinite and imaginative variety", as declared by The Guardian, this is truly to be a magical evening.
---
The family of Qawwal Najmuddin Saifuddin group trace their ancestry back to the 13th-century and are considered today the leading singers of the Sufi Qawwali tradition. Their songs are of thousands of years of mystic poetry, which have been passed on from generation to generation. The songs, which constitute the qawwali repertoire, are in a number of languages. Those from the classical period are in dialects of north India like Brajbhasha and Awadhi. These dialects continue to have huge influence on qawwali in other languages. There is a rich tradition in other languages like Urdu, Punjabi, Persian and Saraiki.
UK Tour
| | | | |
| --- | --- | --- | --- |
| 5 Mar | Holywell Music Room, Oxford | 0730 605 6305 | Book Now |
| 15 Mar | Storey's Field Centre, Cambridge | 01223 357851 | Book Now |
| 16 Mar | Dominion Centre, Southall | 0730 605 6305 | Book Now |
| 22 Mar | Tara Arts Theatre, London | 0208 8333 4457 | Book Now |
| 23 Mar | Woodside Hall, Glasgow | 0778 693 5075 | Book Now |
| 24 Mar | Excelsior, Nottingham | 0115 7100 300 | |
| 29 Mar | Midland Art Centre, Birmingham | 0121 446 3232 | Book Now |
| 30 Mar | Key Theatre, Peterborough | 01733 207239 | Book Now |
| 31 Mar | The Curve, Slough | 0730 605 6305 | Book Now |
| 5 Apr | Great Hall, Dartington | 01803 847 070 | Book Now |
| 6 Apr | Porchester Hall, London | 0730 605 6305 | Book Now |
| 7 Apr | Newhampton Art Centre, Wolverhampton | 01902 572090 | Book Online |
| 10 Apr | Royal Northern College of Music, Manchester | 0161 907 5555 | Book Now |
The Indus Festival, is a series of performances in celebration of the classical and contemporary arts of South Asia. We are presenting a number of artists in collaboration with organisations from the East region. This will be the basis for all future work of Indus Music. We propose to celebrate The Beatles' trip to India which transformed the perception of Indian music in the West. Their historic meeting with Pandit Ravi Shankar remains to this day the key moment in the history of this music in the West.
The festival will include music – all genres, Khyal, Qawwali, Ghazals, Dance, Book Reading, Poetry.
---
2018
---
24 May / 6:30pm / £ Free
Concert
Shephali Frost —
Sufi Songs from 16 - 21st Century / Prelude event - Women in the Arts Festival
Nehru Centre
12 June / 6:30pm / £ Free
Concert
Chinmayi Tripathi: Poetry Project —
Songs of Hindi Poets (Neo Romanticist Poetry)
Nehru Centre
12—17 June / 11am-7pm / £ Free
Exhibition
Madhubani Painting Exhibtion —
Seema Singh
M.P. Birla Gallery, Bhavan Centre
16—17 June / 10am / £27.54
Workshop
Madhubani Painting Workshop
Seema Singh
M.P. Birla Gallery, Bhavan Centre
Saturday 16 June / 8pm / £12-15
Concert
Mystic Songs & Sufi Qawwali —
Abi Sampa with support from Chinmayi Tripathi
Rich Mix
18 June—11 July / 11am to 7pm / £ Free
Exhibition
Women in Khyal Music - Music and Imagination —
A multimedia exhibition
M.P. Birla Gallery, Bhavan Centre
19 June / 6:30pm / £ Free
Talk/Concert
A Talk by Dr Laura Leante - Khyal Exhibition —
Khyal Music — Dr Milind Malshe
Nehru Centre
20 June / 6:30pm / £ Free
Talk/Book Launch
A Talk by Dr Laura Leante — Khyal Music & Visual Art
Book Launch — Dr Bhaskar Dasgupta launched a fictitious musical story on Khyal between a 15th Century blind poet saint and Mughal Emperor Akbar.
M.P. Birla Gallery, Bhavan Centre
19—23 June/ 10am to 6pm / £ Free
Exhibition
Songs of Spring —
Sara Riaz Khan•Vinita Khanna•Sudipta Modi
Asia House
24 June—13 July / 11am to 7pm / £ Free
Exhibition
Songs of Spring —
Sara Riaz Khan • Vinita Khanna • Sudipta Modi
Transferred from Asia House
M.P. Birla Gallery, Bhavan Centre
26 June / 7pm / £7.50
Talk
Talk on Music of the Agra Gharana —
Priya Purshothaman
M.P. Birla Gallery, Bhavan Centre
29 June / 7pm / £15
Concert
Priya Purshothaman — Khyal Vocal
With Amritpal Singh—Tabla
M.P. Birla Gallery, Bhavan Centre
6 July / 7.30pm / £ Free
Concert
Deepa Hattangady Karnad —
Khyal Music
M.P. Birla Gallery, Bhavan Centre
8 July / 6:30pm / £10
Dance Recital
Indrani Datta — Kathak
Katrina Rute — Bharatanatym
Pallavi Anand — Odissi
Bhavan Centre
10 July—13 July / 11am to 7pm / £ Free
Exhibition
Exhibition of the Baul Tradition —
Papia Das Baul
M.P. Birla Gallery, Bhavan Centre
12 July / 6:30pm/ £ Free
Concert
Sanjukta Mitra —
Khyal Vocal
Nehru Centre
13 July / 6:30pm/ £ Free
Concert
Yan White —
Flute recital - Khyal Exhibition
M.P. Birla Gallery, Bhavan Centre
19 July / 6:30pm / £ Free
Concert
Sunita Avani Amin —
Dhrupad Vocals
Nehru Centre
21 July / 7:30pm / £15
Concert
Amrit Kaur Lohia —
Sarangi/Voice
KauRAS/ Deepa Nair Rasiya —
Songs of Sufi / Sikh Tradition
Watermans Art Centre
22 July / 3pm / £15
Concert
Sangeeta Datta —
Tagore & Baul
Papia Das Baul —
Baul Songs
Watermans Art Centre
22 July / 7pm / £15
Concert
Shepali Frost –
Sufi Mystics / Contemporary Poets
Vandana Somai –
Bhakti Poet
Watermans Art Centre
28 July / 7:30pm / £13
Comedy
Sindhu Vee: Sandhog —
A night of comedy with Sindhu Vee
Tara Arts Theatre
3 August / 6:30pm / £ Free
Concert
Urmi Chakraborty —
Semi Classical /Hindustani Vocals
Nehru Centre
13 August / 2:30pm / £10
Conference
Women in the Arts Conference —
Keynote Speech / Panel discussions / Business of Music
Music Publishing / Talent Development & Artist Management
Finance & Fundraising
Wilton's Music Hall
13 August / 7:45pm / £17.50
Concert
Nicki Wells —Turya
Wilton's Music Hall
14 August / 7:45pm / £17.50
Concert
Zoe Rahman —Jazz / Contemporary
Wilton's Music Hall
15 August / 7:45pm / £17.50
Concert
Patricia Rozario —Soprano/ Western Classical ::Naresh Sohal / John Taverner / Vijay Anand
Wilton's Music Hall
16 August / 7:45pm / £17.50
Concert
Calcutta —English Baroque meets Indian Music
Wilton's Music Hall
---
Present by Tara Arts with Sama Arts
---